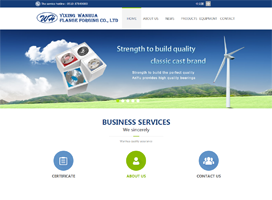 公司描述
Yixing WanHua Flange Forge Co.,Ltd is situated in Wanshi Town of Yixing, the capital of pottery on the shore of the picturesque Taihu Lake and on the boundary between Jiangsu, Zhejiang and Anhui provinces and at the intersection of Nanjing-Shanghai, Nanjing-Hangzhou and Wuxi-Yixing expressways and Xinyi Changxing Railway and other watercourses, highways and railways. It boasts a convenient transport system and a beautiful environment.
Covering a land area of 20 mu equivalent to about 13,000 square meters, Wanhua Enterprise owns 4 modernized standard workshops covering a floor area of 7,000 square meters. In April 2011, the enterprise obtained the (pressure pipe cimponent) grade A forged flange manufacturing permit issued by the State Administration of Quality Supervision, Inspection and Quarantine, international certification of ISO9001:2008 issued by SGS certificate authority, certification of PED4.3. And safety registration certificate of steel forgings for pressure vessel products issued by China Standardization Committee on Boilers and Pressure Vessels. The enterprise is a member of China Chemical Industrial Equipment Association. In the flange industry, the enterprise has strong technical strength, advanced processing technology and complete detection means. The products are mainly related to pressure containers, chemical macinery, auxiliary machine of power station, environment protection equipment and other components for pressure pipes. Its products are widely used in such industries as petroleum, chemistry, metallurgy, hip-building, fuel, urban construction, water heating, military engineering, fire-fighting and environment protection. The main equipments of the company include 1500KG and 750KG air hammer, gas furnace, heating furnace, heat treating furnace, 5T crane, 10T crane, DYB forging manipulator, Deli GD metal band sawing machine, CNC drilling machine, Z3040 and Z3050 drilling machine, CNC lathes as well as other machine tools of various types, and equipped with chemical analysis room and corresponding physical and chemical equipments. The products include various kinds of ring parts, forging parts, high, medium, low pressure flanges etc., and the material 20#、A105、12CrlMoV、16Mn、16MnD、15CrMo、09MnNiD、F321、F304、F304L、F316、F316L、S30408、S30403、S31608、S31603、S32168. The products can be produced according to ASME(ANSI), DIN, JIS as well as Chinese standards such as NB, JB, SH and HG, and can also be customized according to customer requirements of various materials, special, non-standard, gaint ring parts, gaint flanges and gaint forging parts. Our quality guideline is managing strictly, optimizing production methods, preventing sub-standard products, lowering scrapping rate, ensuring quality, improving continuously, creating a brand of flange and satisfying all customers.
Our quality objective is 98% of product eligibility rate, 100% of ex-factory eligibility rate, above 98% of customer satisfaction rate, and 100% of quality information feedback treatment rate. New and regular cutomers are cordially invited to come negotiating business and giving guidance.