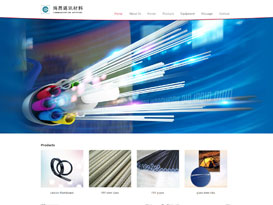 Founded in the first year of the new century, Wuxi Hongchang Communication Material Co.,Ltd is specialized in high-tech nonmetallic reinforced core for optical cable---FRP, the crystallization of high-tech, high starting point and Chinese new industry.
  Having adequately exerted the advantages in capital and technology since founded, the company has developed and produced all sizes and models of products from φ0.4-φ4.5MM. The 13 projects tested by national authoritative institutes (example: WRI, SECRI, etc.) all accord with and exceed every technical index of national standard (YD/T1181.1-2002), reaching national leading level.
  In the past, it was used to adopt phosphating steel wire as reinforced core to produce optical cable in home. But with the quick development of science and technology, the original material (steel wire) shall be substituted by new functional material (FRP).
  The advantages of FRP fiberglass (nonmetallic) is to adopt electrolyte completely, and is broad in application scope, resistant to various corrosion, compatible with other cable material and long in service life, moreover, the transmission performance can not be damaged because of bad gases produced by metallic corrosion. The nonmetallic material is not sensitive to electric shock, not be disturbed by electromagnetism. It is of more excellent extension intensity, high flexibility, high bending performance, low rate of elongation and small specific gravity (about one fifth of that of steel wire), what's more, it can also provide longer disk length at the same dimension, greatly improving production efficiency and rate of finished product.
  Located in Taihu flowing with milk and honey, the beautiful Huishan High-tech Economic Development Zone in Wuxi, Hongchang has cooperated with several science research institutes in home depending on our strong power; and has inviting authoritative technical experts as our counselor to buildup developing team, guaranteeing product's development and quality.
  Invested RMB20million at the first stage, occupying 20,000mm, our company's annual output can reach 300,000 KM; and it is estimated to be over 500,000 KM in 2003; then the company shall become the largest base of research and production for FRP product in home.
  As the most applied new type functional material in 21c, FRP must be more and more important. Viewing contributing the society with science as our responsibility, Hongchang will constantly develop new product, make great efforts for creating worldwide first-class product, and provide more satisfied products and service for all users. Qian Mingyu, the general manager of our company, together with all the staff, invites new and old friends here for business and cooperation!